We are delighted to announce that MobileJawi for iOS is now available for iOS and iPadOS devices. You may download this app from the App Store.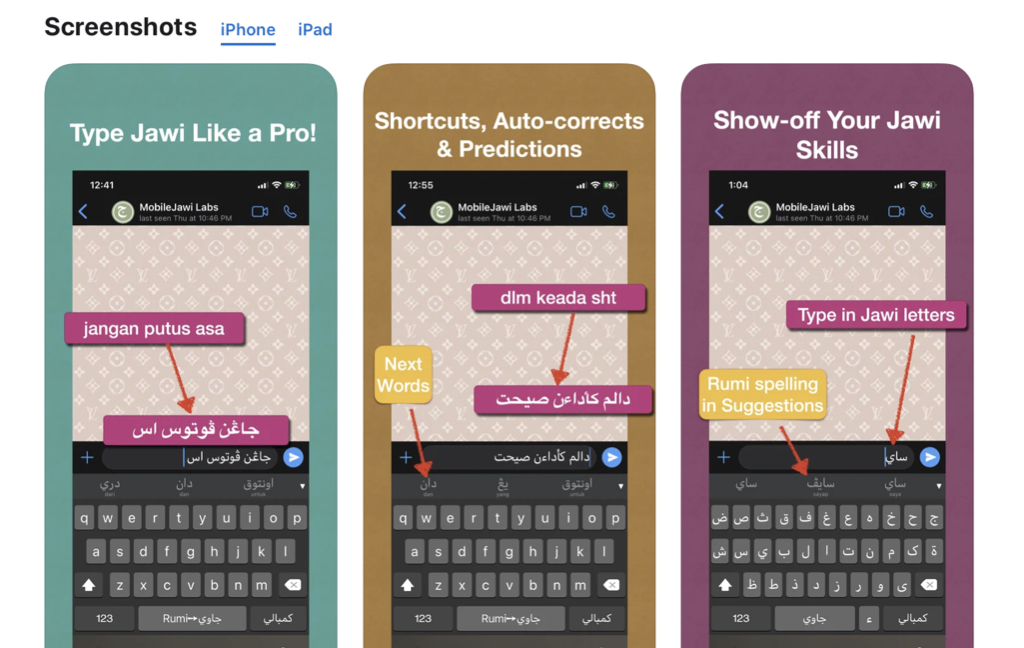 MobileJawi for iOS includes two types of keyboards: The revolutionary Rumi➙Jawi keyboard and the native Jawi keyboard. Both these keyboards have been extensively tested on iOS devices over the past two years.
Rumi➙Jawi Keyboard
The Rumi➙Jawi keyboard is the star of the keyboard suite. It allows you to type Malay in the Jawi script using Rumi (Latin) alphabets. You need not know the Jawi spelling of Malay words in order to type in Jawi with this keyboard.
Rumi and Jawi spelling systems do not have a one-to-one letter conversion. For example the word saya in Malay has four letters in Rumi but only 3 letters in Jawi: س sin, ا alif and ي ya. The built-in transliteration engine accurately converts the words typed in Rumi to Jawi letters on-the-fly.
This input method will help beginners learn the Jawi letters and its spelling system. They can compose their text quickly using the familiar qwerty keyboard.
Malay shortcuts
The keyboard understands commonly used shortcuts in Malay text messages. If you simply type prgi jmpa kwn, for example, MobileJawi will expand this to pergi jumpa kawan and convert it to Jawi. The text will become ڤرݢي جومڤا کاون.
All these happens as you are typing on the keyboard.
Here's a video that shows the Rumi➙Jawi keyboard in action:
Native Jawi Keyboard
Another keyboard included in MobileJawi is the native Jawi keyboard. This keyboard closely follows the Arabic keyboard layout. Even in this keyboard, every Jawi word that shows up in the suggestion strip will have its Rumi representation below it.
Just like the Rumi➙Jawi keyboard, the native Jawi keyboard also does auto-correction and next word prediction.
Search for MobileJawi in the App Store – or simply click this link to download.
Related Videos:
1. Setting up MobileJawi in iOS
Related stories:
2. Cari Kata Jawi